An Interesting Case of Roof Spread
I was carrying out a dilapidation survey in the West Midlands quite recently and whilst checking the roof space came across an unusual case of roof spread. I'm sure you're familiar with the basic cause of roof spread but if you aren't then I've included a basic diagram that shows how unrestrained rafters can apply horizontal thrust to the walls and make them unstable. Generally this is due to inadequate collar ties or ceiling joists or indeed failure of those timbers.  In this particular case there were no external signs of cracking or structural problems and neither was I particularly looking for, or asked to investigate structural cracking in the building. However, on inspecting the first floor store room I noticed substantial cracking to the dividing party wall that warranted more detailed investigation.
There was a long crack to the internal corner of the ceiling to wall junction on the front elevation of the property and a further diagonal crack cutting down through the dividing party wall.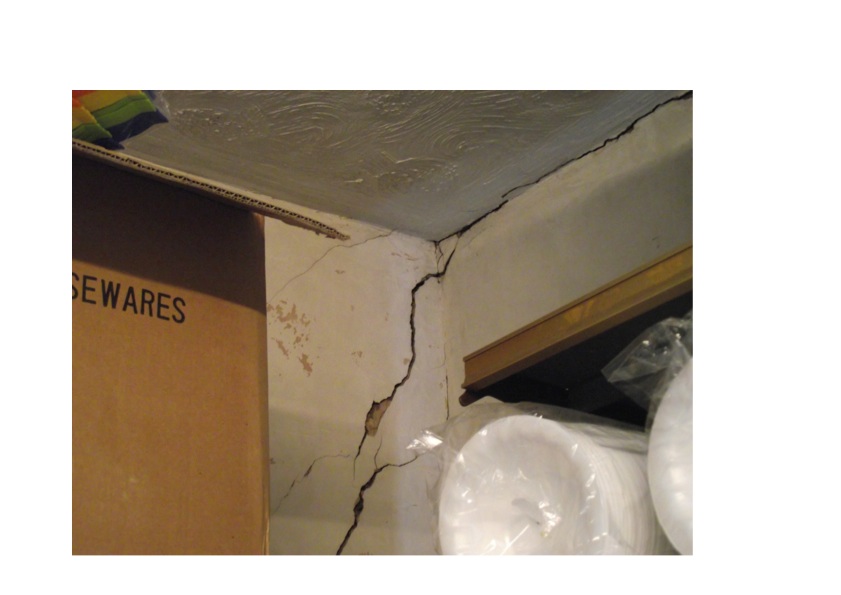 The damage was indicative of roof spread but was not quite serious enough to manifest any obvious visual problems to the front elevation of the property.
The roof space to this particular property was not fully accessible or safe to access so I had to inspect as best as I could from the loft hatch and after a couple of minutes I looked directly above my head and immediately noticed the problem. The ridge board was completely split which had resulted in a section of the rafters dropping just enough to apply horizontal thrust to the wall plate on the front elevation. If looking for the obvious and common cause of roof spread then this particular issue could so easily have been missed, especially  when limited to a head and shoulders inspection from the loft hatch.
Please follow and recommend our blog page: